Are alternatives for everyone? Attitudes to the role of alternatives in institutional investment portfolios
Aberdeen Asset Management
Research among more than 100 senior institutional investment professionals undertaken by Gabriel on behalf of Aberdeen confirmed that they are investing in an increasingly wide range of asset classes and strategies in their drive to manage risk and achieve returns.
This study was the centrepiece for a wide-ranging thought leadership, marketing and communications campaign, which provided qualitative insights into why and how these asset classes and strategies are used. It raised awareness of Aberdeen's first class credentials as an alternatives asset manager and provider of bespoke investment solutions to pension schemes, insurance companies, not-for-profit organisations and wealth managers.
Gabriel delivered an end-to-end service working closely with the Aberdeen Multi-Asset, UK Institutional Marketing and client relationship teams: conducting the research and writing the research report and ensuing marketing and communications.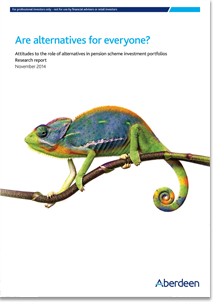 IN THE PRESS
---