Private banking and fund marketing
Arab Bank Group
Arab Bank Group has the largest global Arab banking network with over 600 branches spanning five continents
Arab Bank is also present in key financial centres such as London, Dubai, Singapore, Geneva, Paris, Frankfurt, Sydney and Bahrain. Its wide range of financial products and services covers consumer and private banking, corporate and institutional banking and treasury services.
Gabriel has worked with the Group and its private banking division since 2004. Assignments range from re-writing and re-designing the way in which Arab Bank communicated to its private banking clients around the world to fund marketing content and design for Arab Bank Switzerland.
Arab Bank Private Banking: attracting a new generation
Our work was designed to appeal to a new generation of high net worth clients as well as the patriarchs that form the bedrock of Arab Bank's private banking clientele.
The visual treatment juxtaposed striking black and white photographs of Middle Eastern landscapes with images of families that feature two and three generations. These pictures were art directed by Gabriel and taken by the then London-based Arab Bank employee James Simmington a highly accomplished amateur photographer.
The launch campaign and strapline: Privacy. Performance. Pride. encapsulated Arab Bank's proposition, unique culture, heritage and niche positioning, which form the basis of its strengths.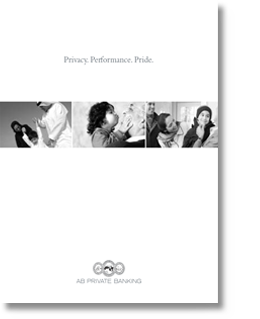 Fund marketing
Gabriel was asked to standardise the design of the fund reports so that they were on brand and easy for fund managers to update.
Gabriel developed, built and deployed an automated (VBA) MS Office solution that enabled fund managers to generate monthly fund reports efficiently and easily and that were visually consistent with brand guidelines.