Group-wide brand and business marketing
Barclays
Gabriel worked for Barclays for over 20 years on projects for every business unit across the Group including: Barclays Wealth, Barclays Global Investors and the retail bank, but primarily with Business and Corporate banking.
Business and Corporate banking assignments covered internal and external marketing and communications, ranging from in-branch campaigns targeting retail customers and SMEs to campaigns and collateral aimed at corporate and institutional audiences, across print and digital channels.
Our writers' work was an important part of our offering; they acquired a valuable depth of product knowledge producing copy for a wide variety of projects (product launches, fact sheets, service guides, brochures, advertising campaigns, direct marketing and internal communications). As the Barclays brand evolved, they played an important part in refining the tone of voice and messaging.
The Small Business Guides, for instance, researched, written, designed and produced by our team for Barclays' SME audience, were recognised as setting new industry standards by Business Links and the banking community.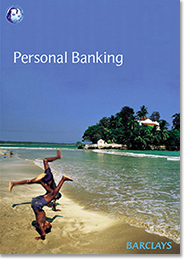 Read about the work we did for Barclays in Africa and the Caribbean