In a changing world, what should good governance look like?
Aberdeen Asset Management
Published to coincide with Aberdeen's annual investment conference in November 2015, this research underlined the importance to investors of good governance in countries and companies.
In the increasingly interconnected world we inhabit, changes at country level are felt at company level more rapidly nowadays than perhaps at any time in history. While globalisation has increased opportunity around the world it has also introduced new risks and the threat from geopolitical unrest is not confined to developing markets. Governance is the new differentiator.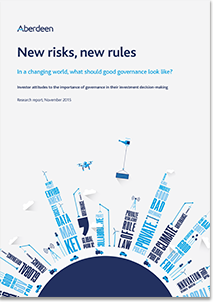 293 decision-makers participated in the research, which comprised a review of secondary research, a quantitative survey and qualitative interviews. Contributors included trustees, finance directors, pension managers and consultants across the financial services industry, corporate and not-for-profit sectors. The survey had global reach, with participants from the UK and elsewhere in Europe, North America, Canada and the Asia Pacific region.
IN THE PRESS
---