Corporate reporting
Gabriel's stakeholder communications and corporate reporting practice comprises an experienced team of business and communication specialists, writers and designers. Our approach is structured to deliver clear, compliant and compelling content, beautifully and efficiently designed – communications that build trust and loyalty among your investors and other stakeholders.
Our offering includes:
Proposition development
Content origination and copywriting
Design for print and digital channels
The added value of our research capabilities
Projects benefit from our relationships with investors, a wide range of market participants and key business influencers, plus insights from our research and analytics practice.
Integrated reporting: getting the balance right
Understanding how to take the information you want and need to convey, and structure it according to different audiences (and for dissemination across different channels) requires skill. The ACCA's research reported that more than 90% of investors had a strong appetite for integrated reporting, but cautioned against the dangers of overwhelming the target audience with information surplus to requirements. "The main benefit of integrated reporting is the opportunity it gives to present the company as an advocate of sustainability… an enhanced ability to align the company's risks with its opportunities, and a greater capacity to adopt a more holistic view of the real drivers of corporate performance and to build stronger relationships with external stakeholders. Integrated reporting also has its disadvantages. Inevitably, it means publishing more data and giving stakeholders even more information than they currently receive. It's hard to keep the messages crisp."
Gabriel's approach recognises the importance of keeping messages "crisp" and the environmental, social and governance (ESG) factors that have an increasingly important impact on corporate value, sustainability and reputation.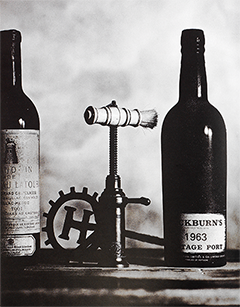 Clear and compelling content, beautifully designed
One of the first annual reports we ever worked on was for Allied Lyons Plc (which became Allied Domecq, now part of Pernod Ricard). The cover shot pictured above depicting a Master Cooper signalled the craft and quality at the heart of the company's proposition. This image was one of many in a series of photographs taken by world renowned photographers Anthony Armstrong-Jones, Lord Snowden and John Claridge. "The shoot took us from Canada to Mexico, across the US and to Jamaica…" said Chris Warner, Gabriel Head of Brand & Creative Services, who art-directed and managed the project. "We were reporting at a critical time in the company's development, marking its acquisition of Canadian drinks giant Hiram Walker, articulating the benefits of the deal to shareholders and crucially, setting out its vision for the future."
Expert, differentiated, value-for-money
Dozens of reports and other business-critical communications have followed since, for clients ranging from Northumbrian Water Group to NatWest. Today, working predominantly in the financial and business services sectors, our team is focused on offering clients a versatile and cost-effective service; strong, differentiating ideas, without the big agency price tags.
Holistic, future-focused, ESG-aligned reporting
In its 17th annual CEO survey, PwC reported that 75% of CEOs said measuring and reporting the total impact of their company's activities across social, environmental, fiscal and economic dimensions contributes to the long-term success of their organisation, recognising that value drivers beyond strategies, risks and opportunities can have a direct impact on a company's cost of capital.
Gabriel supports PwC's roadmap for integrated reporting: a holistic approach focused on value creation.